The Buzby's in Alaska
My Aunt Marty, Margaret Spencer Thomas, is the youngest daughter of Chester Spencer and Bessie Buzby Spencer. She lived in Alaska until the Spencer homestead was purchased by the army to became part of Ladd Field, now Fort Wainwright.

After reading Alaskana writer Ron Wendt's interview with Tiny Buzby, Aunt Marty sent the following email.

I thought it was appropriate for this site and she gave me permission to reprint it here.
-- Spencer Bryant




Chester and Bessie Spencer's daughters -- Elizabeth (Betty) Gleason, Lois Bryant, and Margaret Spencer in Seattle, 1948
---- Original Message ----
From: Margaret Thomas
To: Ron Wendt
Sent: Sunday, February 04, 2007 6:47 PM
Subject: Regarding Mildred Buzby article by Ron Wendt Published l/14/2007
I am Margaret Spencer Thomas and a granddaughter of Harry and Louisa Buzby. I was born in the Grandparents homestead cabin in 1928. My parents, Chester and Bessie Spencer also homesteaded land located about 1 quarter mile from the grandparent's homestead on the Richardson highway. We remained on the Spencer homestead until 1942 when our home was purchased by the US government to be included in what was then Ladd Field. I had finished the 7th grade when we moved to Seattle and have lived in the area most of the time since.
I remember my Uncle Bob, Tiny and their children, Billy and little Denny. As a child I was much a part of the Buzby family and have wonderful memories of life living as a homesteaders child in that great country I still call home. It was a wonderful life. My grandparents lived in a large 2 story log home. We spent many a golden day at their ranch. The grandparents truck farmed and produced milk products for the family and the town of Fairbanks. I remember the night the ranch house was burned to the ground. It had been sold after my Grandmother's passing. We could see the huge flames rising in the cold winter air from our window and I remember my mother's tears. The next day my brothers and I went up the road to the ranch. The only thing found, oddly enough, was an Ally Oop comic book that my brothers kept as some kind of a memento.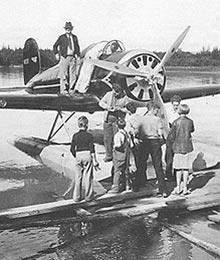 I enjoyed Aunt Tiny's story and I imagine they have had many adventures throughout the years, some I have read of and heard here and there. I remember when Will Rogers and Wiley Post landed at the Spencer dock on the Chena slough to refuel. The PAA had a gas house located on our property and planes landed there quite regularly to refuel. There have been many pictures in print of Post's plane at our humble dock, some including pictures of my brothers. My mother thought best that I didn't join the others at the ramp since I was just a little seven year old kid. I have always wished I could have shook the hand of Will Rogers. I believe that was the last stop before Wylie Post took off for points farther up north. We were on our way to go berry picking the day we heard of Post's plane crash and it was a sad day in all.
Sorry to have rambled on. I enjoy reading about people I remember and people who knew my folks. Thanks so much for the article.
Margaret J. Spencer Thomas
Edmonds, Washington
Back to the top

Home | History | Family Photos | 2007 Reunion | 2009 Reunion | Extras
Matanuska Peak photo courtesy of Teressa Van Diest
Website by Spencer Bryant spencerlmp@yahoo.com