The Buzby Family, Harry & Louisa Buzby, Pioneers in Alaska (slideshow)
Beverly Redhead Colapietro is a descendant from the Jay Buzby branch of the family. Her mother was Jay and Isabel's daughter, Esther Buzby Redhead. Beverly was invited to participate in the Valdez Museum & Historical Archive's "Tuesday Nite History Talk" on the topic of our pioneering Buzby Family.
For her presentation of the history of the Buzbys in Alaska she prepared a very entertaining and informative slideshow. Read this downloadable version of the presentation. It can also be printed if you wish.
A gathering of the Buzbys, 1935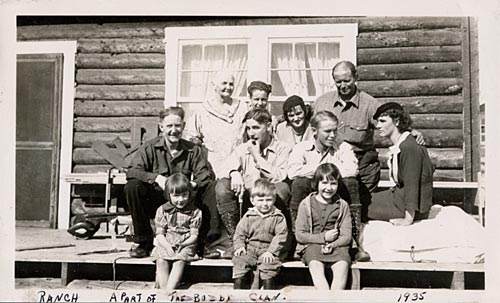 The family gathers at the Buzby ranch house near Fairbanks, 1935.
Back row: Grandma Louisa Buzby, Tom Spencer, Aunt Isabel, Jay Buzby.
Middle row: Ted, Elt and Bob Buzby, Aunt Winnie.
Front row: Joan, Sam, Evelyn Buzby.
A gathering of the Buzbys, 2009


The Buzbys gather again at North Pole and Fairbanks, July 20 - 23, 2009, to celebrate more than 100 years in Alaska. Click for a larger image
About this website
This website commemorates the family and descendants of Harry and Louisa Buzby, Alaska pioneers and parents of Bessie, Marian, Jay, Ted, Elt and Bob Buzby.
My grandmother was Bessie Buzby Spencer, the oldest daughter of Harry and Louisa Buzby. My grandparents lived in Alaska until 1942, when they moved to Seattle. In February 2007 my Aunt Marty, who grew up on the family homestead near Fairbanks, contacted Bob and Tiny Buzby's daughter Alice Renfro. Thus Bessie Spencer's family was reunited with the Alaska Buzbys.
I created this site to honor my Spencer and Buzby ancestors. Thanks for visiting the Buzby family website.
~~ Spencer Bryant
206-367-7018
Back to the top

Home | History | Family Photos | 2007 Reunion | 2009 Reunion | Extras
Matanuska Peak photo courtesy of Teressa Van Diest
Website by Spencer Bryant spencerlmp@yahoo.com