Remembering Marian Buzby
Marian Louise Buzby was the second daughter of Harry and Louisa Buzby. She was born on April 26, 1899 in Oregon City, in Clackamas County, Oregon. She married James Ewart Crowell and they had four children, James Ewart Jr (Jim), Marian Louise Jr (Mimi), Dwight Eugene, and Emily Joyce.

Marian and her family, 1933
Back: Marian Jr (Mimi), Ewart Crowell, Jim, Marian
Front: Dwight, Emily

Louisa Buzby and Marian with Marian's son Jim, 1925

Ewert and Marian lived and raised their family in Southgate, California. My grandmother, Bessie Buzby Spencer, and her younger sister Marian were very close all their lives and often visited. The photos on this page are from my grandmother's photo album.

I barely remember the phone call, in July 1956. I was only 10 years old at the time. We were visiting Grandma in Seattle. Aunt Marty remembers answering the phone and receiving the terrible news that Marian, her husband Ewert, their son Jim and Jim's son Patrick Anthony, age 2, had been killed in an auto accident.

The family has never forgotten Marian and her family. While planning for the Buzby reunion for July 2007, Barbara Entsminger asked if I knew the whereabouts of Marian's family, hoping that they could be located and included in the family gathering.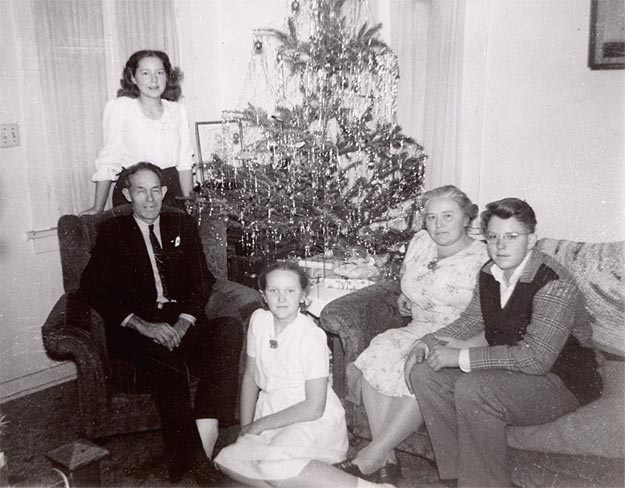 Marian and her family, Christmas 1944
Note: This page was updated on Sept 15, 2009. I was contacted by Marian's daughter Mimi Crowell Bessette and her niece Cathy (Rowe) Downing. They gave me some more information about the Crowells, and we will be sharing even more as time goes by. It's great to be in touch with them.
-- Spencer Bryant
Back to the top

Home | History | Family Photos | 2007 Reunion | 2009 Reunion | Extras
Matanuska Peak photo courtesy of Teressa Van Diest
Website by Spencer Bryant spencerlmp@yahoo.com