The Spencer Homestead
– Chester and Bessie Spencer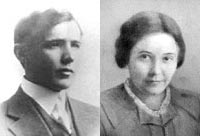 Chester Spencer was born in Kentucky in 1883. He arrived in Alaska with the U.S. Army Signal Corps, traveling in over the Yukon River route from Dawson in 1909. Until 1911, he served as a telegraph operator with the Signal Corps at several stations including Fairbanks, Minto, and the now-defunct town of Chena.
In 1911, he married Bessie Claire Buzby and became a deputy U.S. marshal, first at Circle and later at Fort Yukon. The family then resided in California from 1922 until 1928, when they returned to Fairbanks. At that time, Chester Spencer filed a homestead entry on a 140-acre strip lying between the original Buzby/Noyes homestead and the Joy homestead, which was then owned by the Harry Buzby family.
Spencer was active in the lumber business from 1928 to 1933. Details about that business are not available, but photographs indicate that he operated a small sawmill, possibly on the homestead at the river's edge. Beginning in 1933, he served again as deputy U.S. marshal for five more years, this time in Fairbanks. It was during this time that he received patent on the homestead in 1935. Spencer was also active in politics, serving one term in the Territorial House of Representatives from 1939-1941.
Chester Spencer enjoyed traveling the rivers of interior Alaska and on occasion sent back detailed reports of life along the river settlements for publication in the Fairbanks newspaper. In 1939, he and his brother-in-law, Elton Buzby, began carrying agricultural products for sale along the Tanana and Yukon rivers in a hand built, specialized shallow-draft riverboat nicknamed The Trader. The thirty-foot wooden craft was powered with a marine engine and drew only eighteen inches of water, allowing it safe passage through the myriad shifting shallow channels of the Interior rivers and sloughs. On its maiden voyage. The Trader carried five tons of fresh produce as well as general merchandise for sale.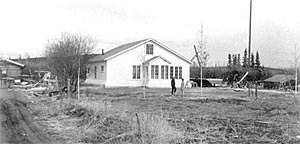 The Spencer family eventually had a frame house, garage, and several outbuildings on the homestead. A boat dock that the extended Spencer/Buzby family used also served as a float plane dock for commercial flights. Beginning in 1939, the Spencers subdivided and sold a few parcels along the Richardson Highway area of the homestead. In 1943, Ladd Field purchased the property. According to family members, the military disposed of the buildings at the site by bulldozing them into the river. In recent years the Spencers' grandson, Ted Spencer, searched for remnants of the foundations but was not able to locate them.
Chester and Bessie Spencer had seven children: Lois, Elizabeth, Thomas, Harry, Theodore, James, and Margaret. In later life, Chester and Bessie Spencer retired to Edmonds, Washington. Bessie passed away in Edmonds on June 7, 1964. She was seventy-two. Chester died in Seattle on May 11, 1974, at the age of ninety.
This article is adapted from Homesteads on Fort Wainwright, Alaska by Kathy Price, published by the US Army, Fort Richardson, Alaska. Information presented on U.S. ARMY - Alaska (USARAK) Web Site is considered public information and may be distributed and copied (unless otherwise specified.)
Back to the top

Home | History | Family Photos | 2007 Reunion | 2009 Reunion | Extras
Matanuska Peak photo courtesy of Teressa Van Diest
Website by Spencer Bryant spencerlmp@yahoo.com