Remembering Bill Buzby
Bill Buzby, son of Bob and Tiny Buzby, passed away on Sept. 27, 2010.
Bill was born Aug. 23, 1933, in Fairbanks to Bob and Tiny Buzby. The family moved to Palmer in 1949, where Bill graduated from Palmer High School in 1951.
Bill married Judith Bryant of Palmer in 1956 and they had four children: Dwight, Brenda, Brian and Denise. Bill and Judith divorced in 1976. He married Barbara Holeman (Brewster) of Anchorage in 1978. Barbara had two sons, Curtis and Perry Holeman.
Bill worked as a heavy-equipment operator, mechanic and shop foreman, retiring in 1988. He loved the outdoors and enjoyed spending time at the family camp in the Alaska Range with family and friends.
Bill was preceded in death by his father, Robert L. Buzby; and daughter, Denise Buzby. He is survived by his wife Barbara, mother Mildred (Tiny), brothers Ed and Dennis, sister Alice Sims, son Dwight, daughter Brenda, son Brian, stepsons Curtis and Perry Holeman, and by 15 grandchildren and 18 great-grandchildren.
Five generations of Buzbys — 2007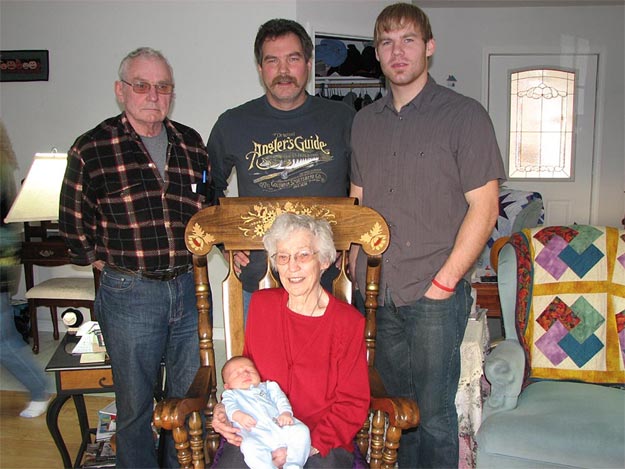 Standing from the left: Bill Buzby, Brian Buzby, son of Bill, Nick Buzby, son of Brian.
Sitting: Mildred (Tiny) Buzby, holding great-great grandson Kasen Dean Buzby, 10 days old, son of Nick and Austin Buzby.
Back to the top

Home | History | Family Photos | 2007 Reunion | 2009 Reunion | Extras
Matanuska Peak photo courtesy of Teressa Van Diest
Website by Spencer Bryant spencerlmp@yahoo.com