Betty Jean (Buzby) Wells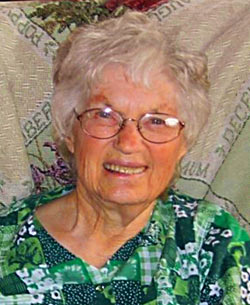 Lifelong Alaskan & longtime Valdez resident, Mrs. Betty Jean (Buzby) Wells, 91, passed away Saturday, February 23, 2013 at Wickersham House in Wasilla.
Betty was born April 14, 1921 to Jayson Grant & Mary Isabel (Croucher) Buzby in Fairbanks, Alaska. She spent three childhood years in Manley Hot Springs and graduated from Fairbanks High School in 1938. She also attended the University of Alaska in Fairbanks.
Dad (Max Wells) and mom were married January 28, 1940 in Fairbanks. They spent their honeymoon attending the Fur Rondy traveling via train to Anchorage. They were married for 67 years. Mom had a quiet strength and faith that carried her through many difficult times including the 1964 earthquake. She and dad lost many friends but also their home and place of business.
Betty lived in Tillamook, Oregon but most of her adult years were spent in Valdez; 1952 - 2012. Betty was a teacher at the Growden-Harrison Elementary School in Valdez for eight years. She was a member of the Oasis Christian Center in Valdez and the Pioneers of Alaska, Ladies Auxiliary Women's Igloo #2. Betty was Mother of the Year in Valdez as well as State of Alaska Mother of the Year in 1964. She enjoyed time with family, embroidery, oil painting, gardening, puzzles, traveling and music. Kids, grandkids and great-grandkids always knew the cookie jar was full at Grandma's house. She was the epitome of Alaskan hospitality.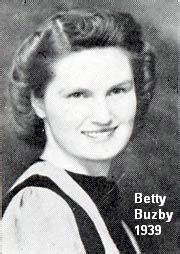 Better known to many as "Grandma Bino," mom was much loved and respected not only by her family but also by friends, neighbors and former students. After dad's retirement they traveled worldwide. Mom's favorite trip was to Australia because it was so "unique". In Egypt, dad turned down an offer of five camels for his "Dolly"!! Mom was proud to be a granddaughter of Alaskan Pioneer, Harry Ephraim Buzby, who came to Alaska as a gold miner in 1898. Mom's story in her own words appeared in Anchorage Daily News March 2, 2003 under Alaskana "Shaken Up" by Sharon Bushell.
"Today is so bittersweet. We had to say goodbye to the gentlest soul I've ever known. Grandma left this aching world to spend eternity in Heaven," wrote granddaughter, Shannon Wells Major.
Betty was preceded in death by her parents; sisters Barbara Boyle and Esther Redhead; brothers George G. and Ronald H. Buzby; husband, Max H. Wells; and son Theodore M. Wells.
She is survived by her daughters, Lynn Bellezza and Mary Wegner of Anchorage, AK; Jean Sutton of Clarkston, WA; Grace Brayton of Juneau, AK and Laura Lappies of Eagle River AK. Sons; Jason C. Wells of Wasilla, AK and David R. Wells of Valdez, AK; 24 grandchildren; and 33 great-grandchildren; sister, Robyn McFetridge of North Pole, AK; brother, Samuel L. Buzby of Newman Lake, WA; aunt, Mildred "Tiny" Buzby (97 years old) of Wasilla, AK; and many nieces, nephews and cousins.
She was buried in Anchorage at the John Bagoy Memorial Cemetery, between her husband Max Wells and her son Ted.
~~Lynn Belleza and Jean Sutton
Back to the top

Home | History | Family Photos | 2007 Reunion | 2009 Reunion | Extras
Matanuska Peak photo courtesy of Teressa Van Diest
Website by Spencer Bryant spencerlmp@yahoo.com