Remembering Barbara Buzby Boyle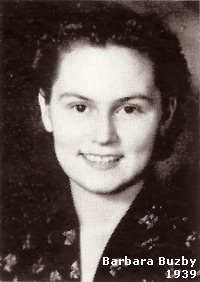 Frances Barbara Buzby Johnson Boyle passed away October 28, 2011, after a short illness at the age of 91. She was born February 24, 1920 in Fairbanks, Alaska, the oldest child of Jayson Grant Buzby and Isabel Croucher Buzby.
As a young child, Barbara lived with her family on her grandparents' ranch, where her grandparents, Harry and Louisa Buzby, had the first dairy herd in Fairbanks. Barbara started school in Manley Hot Springs, then called just Hot Springs, where her father ran the NC store. When they returned to Fairbanks, she attended Fairbanks School and High School, graduating in 1937 as valedictorian. She attended UAF on a scholarship as a journalism major, and was named the Outstanding Freshman in 1938. During her time at UAF, she worked in the museum for Otto Giest.
Barbara left school to marry Norris Johnson, a pilot for the Wien brothers. He was killed in a plane crash at Weeks Field just weeks after their wedding. Barbara then worked for the Wiens herself and was friends with many of notable Alaskans, including Bob and Molly McCombe and Hannah Solomon. She remembered watching Wiley Post and Will Rogers land on the River by her grandparents' ranch. She saw Howard Hughes when he landed in Fairbanks.
Barbara met Corporal James F. Boyle at a USO dance in Fairbanks, where he was stationed at Ladd Field. They married in 1943 in Riverside, California, and lived in many Air Force bases around the US. Barbara spend decades running their 6 children to sports, music and academic events. Jim Boyle passed away in 1989. Barbara continued to live in their home in Grass Valley, California until 2007 when she returned to Fairbanks. In 2008 she moved to Lakeside, California to stay with her daughter, Danielle. She lived there until her death.
Barbara was a warm, open person and a gracious hostess. She had a sly sense of humor and played a wicked game of Scrabble. She was involved in many social and community activities from Brownie leader in El Paso, Texas, to PTA in Hacienda Heights, California, to the Hospital Auxiliary in Salt Lake City, Utah.
She is survived by her sisters, Robyn McFetridge of North Pole, Betty Jean Wells of Valdez, brother, Sam Buzby of Washington, sons Jeff (Linda), Greg (Surray), and Brett (Marcie) Boyle of Grass Valley, California, daughters Danielle (Bill) Bogan of Lakeside, California, Rise (Ed)Adams of Bountiful, Utah, 'Chele Bifelt of North Pole, Alaska, 18 grandchildren and 8 great grandchildren, as well as numerous cousins and other family members and friends.
Back to the top

Home | History | Family Photos | 2007 Reunion | 2009 Reunion | Extras
Matanuska Peak photo courtesy of Teressa Van Diest
Website by Spencer Bryant spencerlmp@yahoo.com